Praetorium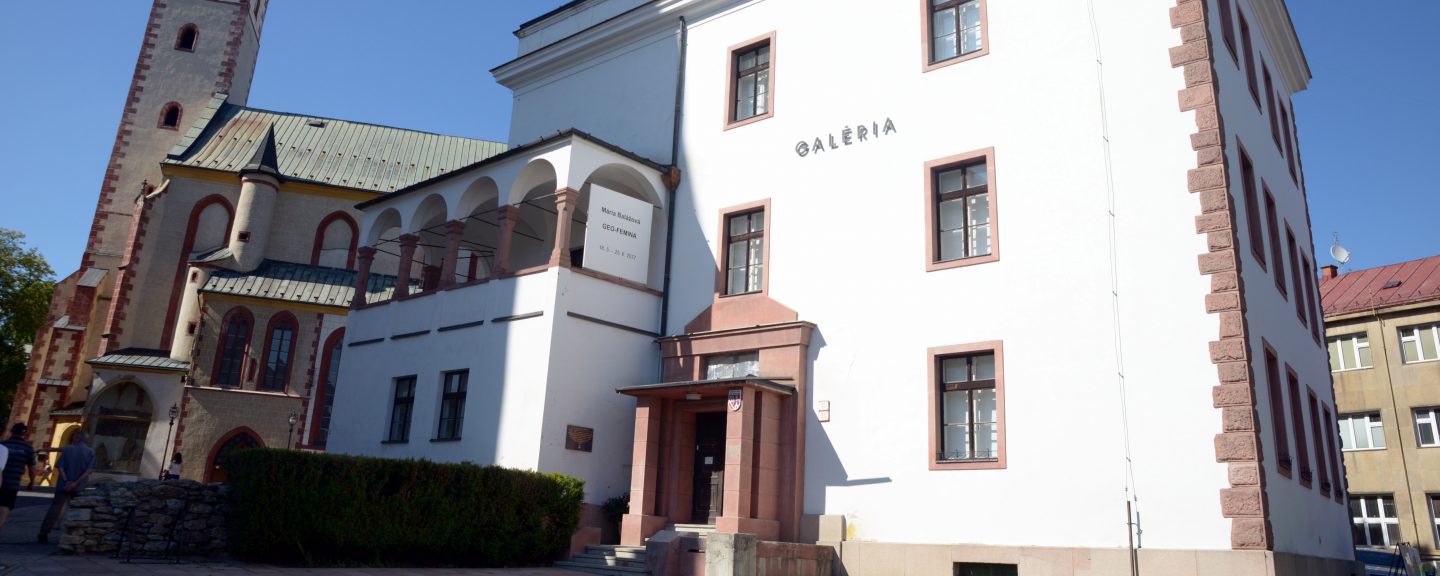 Opening hours
| | |
| --- | --- |
| Monday | Zatvorené |
| Tuesday – Sunday | 10:30 – 18:00 |
| | |
| --- | --- |
| obedňajšia prestávka | 12:00 – 12:30 |
Address
Nám. Štefana Moysesa 25, Banská Bystrica
Opening hours during the Christmas holiday
23. – 26. 12. 2022 – CLOSED
27. – 30. 12. 2022 – OPEN
31. 12. 2022 – 1. 1. 2023 – CLOSED
2. – 5. 1. 2023 – OPEN
6. 1. 2023 – CLOSED
We warmly invite you!
The building of Praetorium is used for temporary exhibitions of contemporary domestic and foreign art forms. It is primarily an experimental space for curatorial and research projects, and also serves as a space for presenting larger monographic exhibitions of prominent personalities of Slovak visual art. Vernissages of exhibitions are complemented with accompanying program of curatorial and author's guided tours, lectures and discussions, creative workshops and educational projects. The modern three-story Praetorium building of the Central Slovak Gallery houses five large halls with a total exhibition area of 400 m2 - floor plan for download.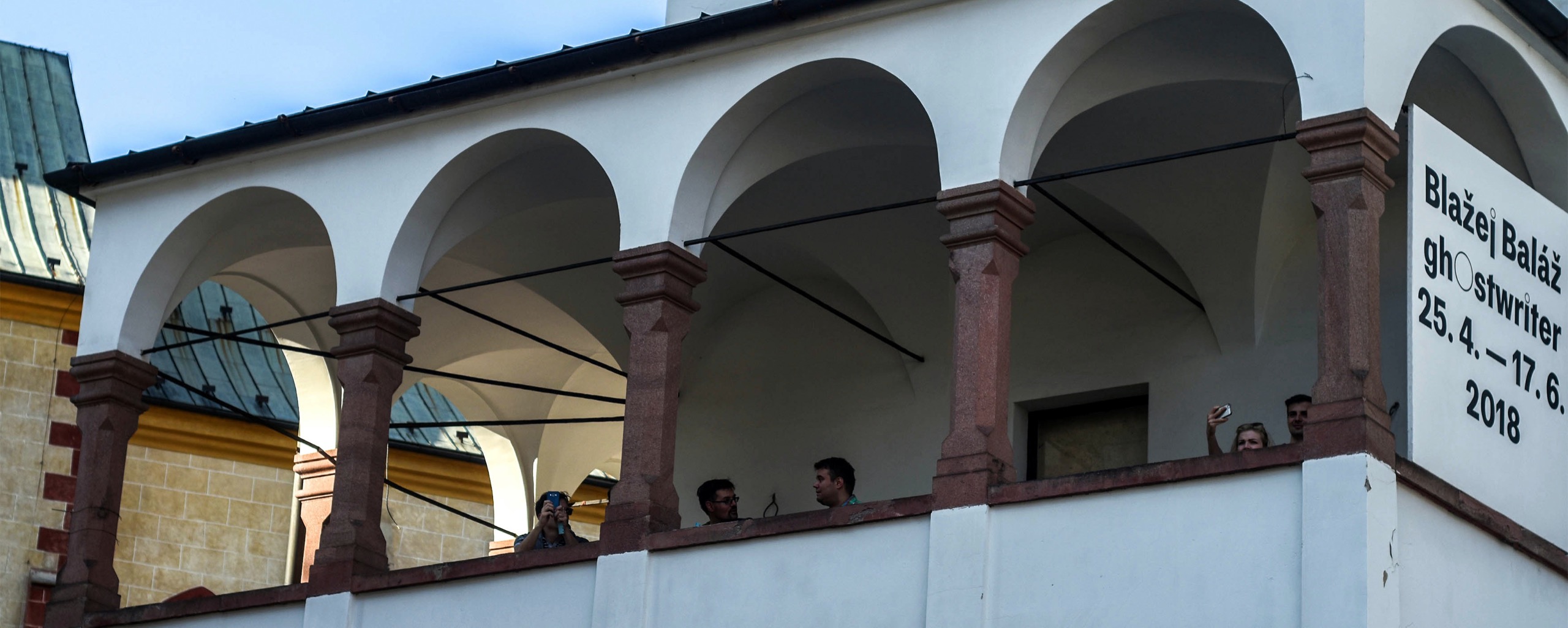 The Praetorium (Old Town Hall) building was built as part of the Banská Bystrica town castle area after 1500. In the former administration building, there were offices for the mayor and a city notary, city council, and a jail located in the underground of the building. In the second half of the 16th century, an extensive reconstruction of the building took place, on the basis of which it acquired a Renaissance character with an arcade loggia. After a major fire in 1761, the Praetorium building began falling into ruin until the early 19th century, when it began to serve primarily the school's needs. The last extensive reconstruction of the old town hall took place in 1944, when the late-baroque interior was rebuilt in a functionalist spirit. In 1951, the first exhibition of the SNP Museum was opened in the building. The regional gallery in Banská Bystrica, the today's Central Slovakian Gallery, acquired the building in 1969, and in 1970 it opened its first international exhibition.
Admission
Discounted admission
Students, pensioners, holders of ZTP car
2 €
Tourist admission
Valid for one entry to every exhibition during the period of two weeks
8 €
Free admission
Children up to 6 years, holders of RGS, RG CR, ZMS, AMG, AICA, ICOM, UNESCO, journalists (journalist's card), pedagogical supervision of organized school groups
0 €
Prehliadka – Základné, stredné a vysoké školy
Prehliadka výstavy s lektorátom / tvorivou dielňou (skupiny nad 10 osôb) Objednávky na
[email protected]
, 048/470 16 24, 0917 294 527
po telefonickom dohovore
Prehliadka – Materské školy
Prehliadka výstavy s lektorátom / tvorivou dielňou (skupiny nad 10 osôb) Objednávky na
[email protected]
, 048/470 16 24, 0917 294 527
1 €
Discounted admission
Students, pensioners, holders of ZTP car
2 €
Tourist admission
Valid for one entry to every exhibition during the period of two weeks
8 €
Free admission
Children up to 6 years, holders of RGS, RG CR, ZMS, AMG, AICA, ICOM, UNESCO, journalists (journalist's card), pedagogical supervision of organized school groups
0 €
Prehliadka – Základné, stredné a vysoké školy
Prehliadka výstavy s lektorátom / tvorivou dielňou (skupiny nad 10 osôb) Objednávky na
[email protected]
, 048/470 16 24, 0917 294 527
po telefonickom dohovore
Prehliadka – Materské školy
Prehliadka výstavy s lektorátom / tvorivou dielňou (skupiny nad 10 osôb) Objednávky na
[email protected]
, 048/470 16 24, 0917 294 527
1 €
Discounted admission
Students, pensioners, holders of ZTP car
2 €
Tourist admission
Valid for one entry to every exhibition during the period of two weeks
8 €
Free admission
Children up to 6 years, holders of RGS, RG CR, ZMS, AMG, AICA, ICOM, UNESCO, journalists (journalist's card), pedagogical supervision of organized school groups
0 €
Prehliadka – Základné, stredné a vysoké školy
Prehliadka výstavy s lektorátom / tvorivou dielňou (skupiny nad 10 osôb) Objednávky na
[email protected]
, 048/470 16 24, 0917 294 527
po telefonickom dohovore
Prehliadka – Materské školy
Prehliadka výstavy s lektorátom / tvorivou dielňou (skupiny nad 10 osôb) Objednávky na
[email protected]
, 048/470 16 24, 0917 294 527
1 €
Map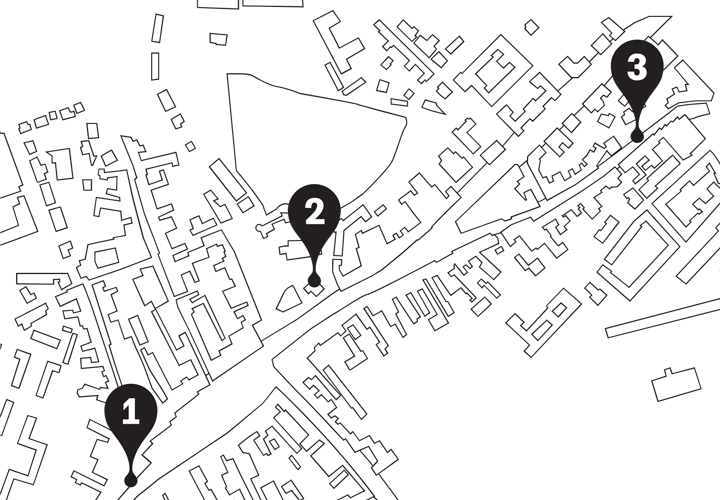 1 – Bethlen's house
2 – Praetorium
3 – Villa of Dominik Skutezky